Our butters are rich in nutrients that aid hydration, reduce skin dryness, possess natural anti-inflammatory benefits, assist repairing damaged skin, improve blemishes, scars, and stretch marks, and soften skin. It is perfect for soothing, moisturizing, restoring, and protecting both skin and hair. It is beneficial for those with extremely dry skin, including Eczema and Psoriasis.
Contains: Shea Butter, Cocoa Butter, Mango Butter, Aloe Butter, Vitamin E Oil and Grade 'A' Fragrances
*no medical claims are being made
Regular price
Sale price
$8.97 CAD
Unit price
per
Sale
Sold out
Share
View full details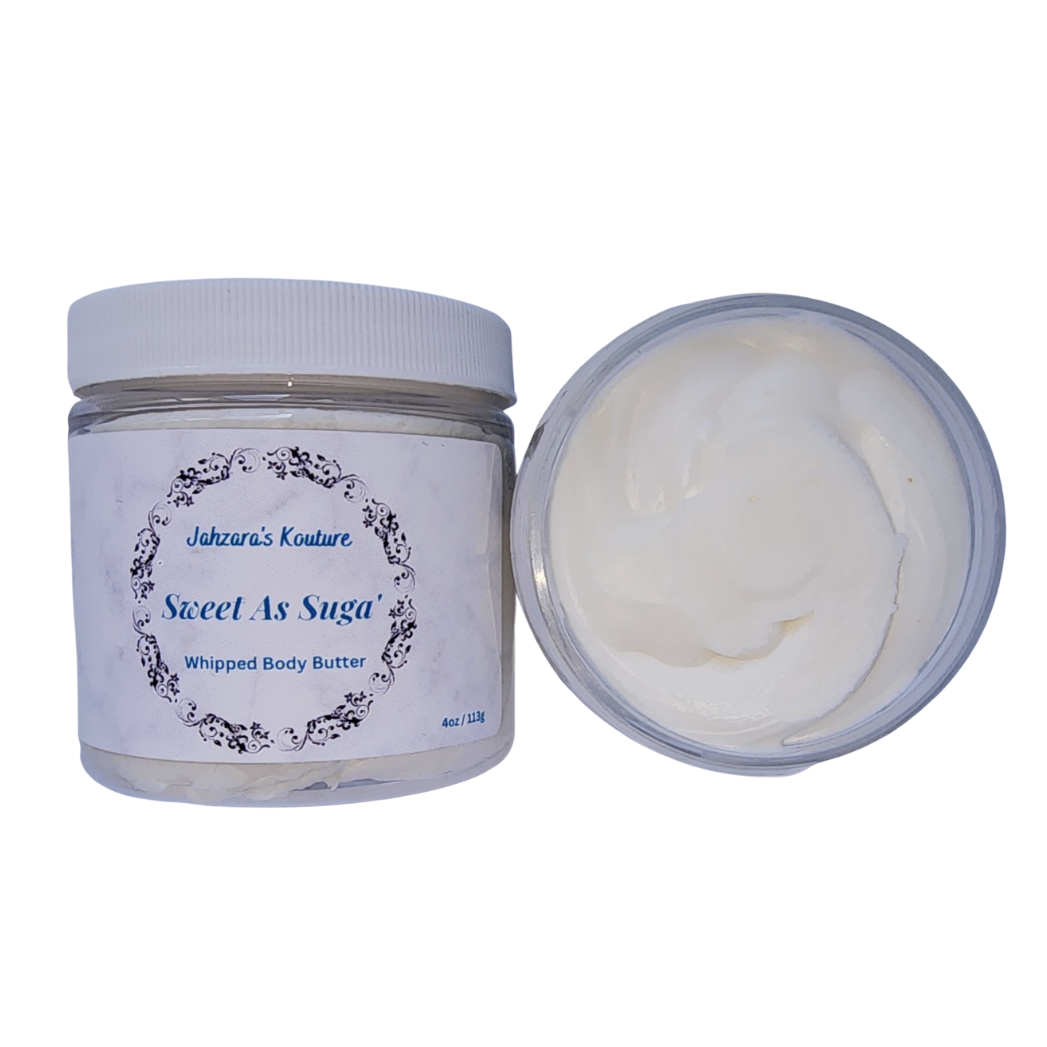 Love this stuff!!!!!
Thank you Dominique A. for reviewing this company! I would not have found this company if not for it and I am so glad that I did. I purchased a few products with one of them being the Sugar Cookie scent and not only was the scent great but the butter is so moisturizing and had me looking and smelling like a glazed donut 😋. Can't wait to try more from them soon
We will also like to Thank Dominique A for Reviewing our products as well! We love to hear all feed back and we are also glad to hear that you love our scent Frosted Sugar Cookies. It has been a top choice for many. Thank you for your Review!
Hands down BEST Body Butter
This is by far the best Body Butter I have ever used. I recently purchased the Vanilla Buttercream and you can tell you are getting straight product with no fillers. My skin is so soft, smooth and moisturized. I purchased the 4oz jar and I am placing an order for the bigger one but I wish they would make this in a tub size jar. Because I just want to bathe in it from head to toe literally. The smell is not overpowering I mean they put just enough fragrance in it. And it last all day on my skin. It blends so well with my other fragrances without competing but just completing whatever I put on with it. If you haven't purchased yet. Please do yourself a favor and do so. Also they offer many ways to save but whatever the price if worth paying and their Customer Service is EXCEPTIONALLY GREAT! I ❤️ these products
Thank you for your review! We are so glad you are in love with our products we work hard at making sire we are using the best of the best ingredients for our products. Giving our customers the purest skincare possible. Looking forward to you trying more from us ❤️
Amazing product
Recently purchased from this company due to a sample I received and I love everything I have purchased so far. I will be purchasing holiday gifts from here as well!
Thank you we are so happy you loved your products and we can't wait for you to try more!
Outstanding Product
(Tropical Fantasy) Scent last all day and has my skin feeling smooth. Would definitely recommend this scent if you like fruity smells.
Thank you for not only trying out our company but also reviewing our products! We are so grateful to hear that you enjoyed your whipped body butter and one of our 'Customer's Favs' Thank you for supporting us!
- Your Team Jahzara's Kouture
The scent and consistency were amazing
The scent was perfect! It wasn't too light but at the same time wasn't overwhelming. The consistency was also amazing, it slides right onto the skin like butter without the mess. I'll definitely be ordering again soon.💙
Thank you so much for your Review! We appreciate your support and we are so proud to hear that you love our products we can't wait for you to try more products and scents and continue to fall in love with us Don't forget to share us with your family and friends