Luv Bitten is a luxurious fragrance that combines soft floral notes with a warm, inviting gourmand aroma. Intoxicating notes of Cognac, mixed with fruity notes of Plum and Wild Peach along with sweet notes of Vanilla make this fragrance a tempting blend of sophistication and sensuality. A perfect addition for any special occasion or moment of indulgence!
Top Notes: Plum, Lychee, Wild Peach, Sicilian Blood Orange, Granny Smith Apple
Middle Notes: Heliotrope, Cognac, Jasmine Sambac Absolute
Base Notes: Benzion, Roasted Almond, Tonka Bean, Vanilla, Patchouli, Blond Woods, Musk, Styrax, New Caledonian Sandalwood
Regular price
Sale price
$20.68 CAD
Unit price
per
Sale
Sold out
Share
View full details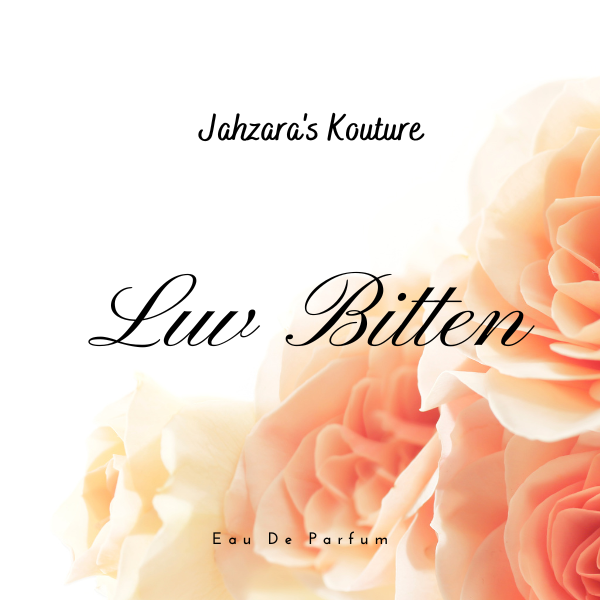 Worth every penny!
Wanted to support a fellow small black owned business and I am so glad I seen their post! This is a wonderful fragrance and have the right to be in a store somewhere. I instantly fell in love with this perfume the moment I pulled it out of the box. I also received samples of other scents that I will be purchasing very soon. Support your Small business owners because they are working harder and providing better quality then most brands!
A must have!
I smelled this on a young lady recently which prompted me to purchase. She smelled so good that I had to stop her and ask her what she was wearing and when I learned that it was a fragrance that her mother made, I knew I had to buy it to help support a black business. This is a business that shouldn't be slept on, and I will gladly give my support!
This needs to be a luxury brand 💗💕
Tom Ford Bitter Peach has nothing on this perfume!!! The smell is amazing the scent last a very long time on the skin and your clothes and it smells like natural peach mixed with beautiful flowers. Don't get scared about the price because it is well worth it. You can definitely compare this to high end brands. Someone on YouTube need to do a Review for this company cause we need to help keep them in business. I'm telling all my family and friends to order them something cause they have a lot of stuff
Thank you for your review! We try our best to make exceptional products and are so glad to hear you compare us with a wonderful higher end brand ❤️ we can't wait to impress you with more of our fragrances and products