Our scrubs not only help to gently remove dead skin from your body but is also very nourishing, moisturizing and aides in the health of your skin overall by unclogging pores, prevents acne, helps to allow other skincare to penetrate deeply into the skin, evens skin tone and so much more!
 For best results apply 2-3 times per week.
Contains: Pure Cane Sugar, Sweet Almond Oil, Soybean Oil, Shea Butter, Aloe, Vitamin E Oil and Grade 'A' Fragrances
Regular price
Sale price
$22.06 CAD
Unit price
per
Sale
Sold out
Share
View full details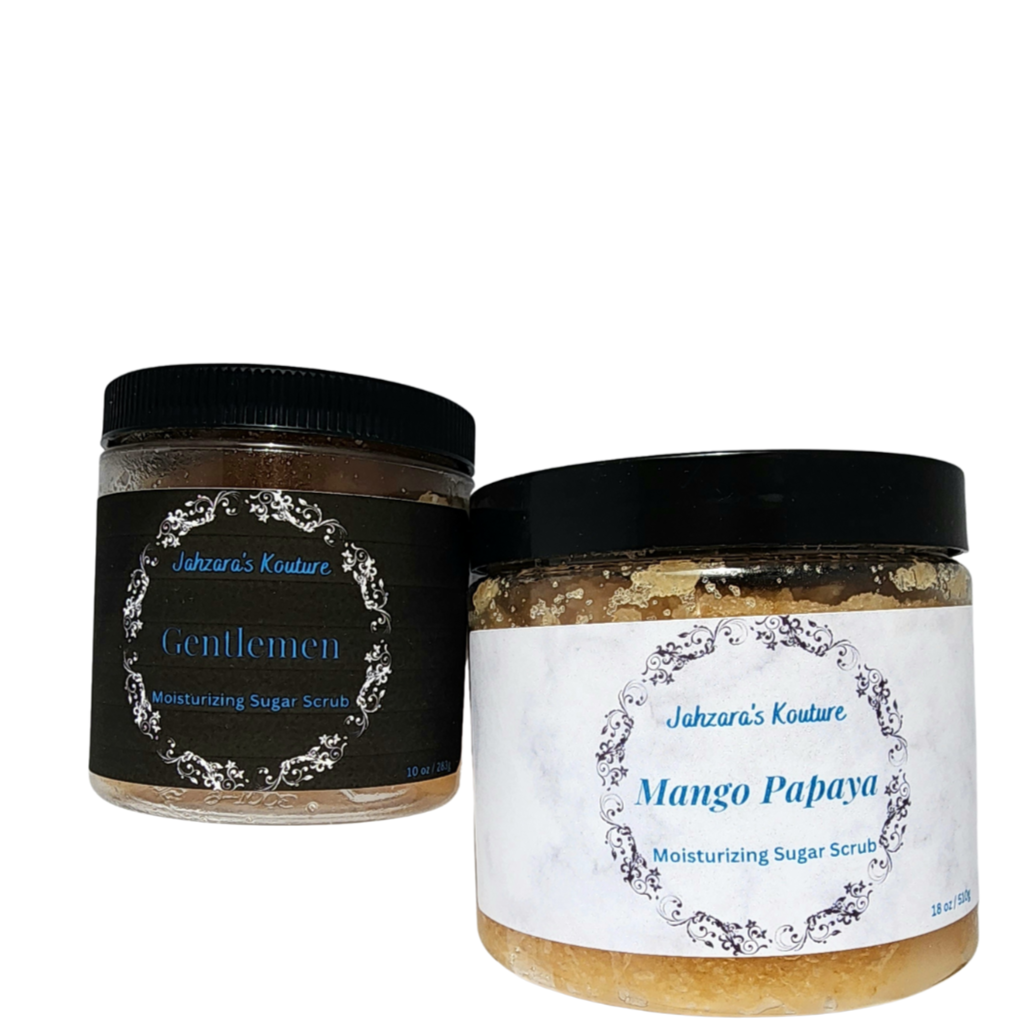 Best scrub I have tried
I was given the Paradise scrub from a friend and I love it. This has been one of the best scrubs I have ever used and it works wonders on my skin and feet. My dry skin has been so much more softer and glowy and this scrub also smells really nice. It was not irritating to my skin which I was also happy about because most other scrubs have broke me out and dried my skin out as well. But this left my skin very moisturized. I will purchase from here.
Yes I am Reviewing Everything!!!!
Ok, I am convinced that either people are not purchasing from this company or they are just not leaving Reviews. But this by far has been the best Small Business I have ever purchased from and will continue purchasing from. There are many that will scam you and take your coin but this company, yea give them all your coins cause babeee you will fall in love with just the smell of the products alone. I have used the Body Oil, Body Butter and yes the Scrub is AMAZINGGGGG. Honestly you don't even really need to use any moisturizer of any kind after using the scrub but I'm super extra so I used the oil after and I was silky-smooth and loved every bit of it. I purchased the Mango Papaya to match the Body Oil and yes I wanted all the smoke these brought together. Y'all better get yall some of these products!!!! Again I love ❤️ this company!!!!!!
Thank you so much again for this review
We love to hear from our customers and get their thoughts on our products. This gives us the motivation to keep going and continue putting out the best.
LOVELY
If you are anything like me and enjoy the soft, feminine scent of roses then you would love the rose Lily sugar scrub!!!
So far it is my most favorite thing I have ordered and I've been a customer for years.
Thank you so much for creating this wonderful scent and sharing with us!
I will be ordering this one again
Thank you for your Review! We are so pleased to have valued customers such as yourself We hope that we can continue to bring wonderful products/ scents for everyone to enjoy.
Amazing product
Amazing!!!!😍😍I LOVE it!!!
We are so happy that you are in Love with our products! Thank you for reviewing and we can't wait to amaze you again with more of our products and fragrances
Wow
I mainly work in Industrial environments doing electrical work, and on top of that I have eczema, so it's easy for my skin to get pretty roughed up on a daily basis. Tried this sugar scrub after work and was shocked by how quickly it softened my hands. Normally I can't even used scented soap or lotion because of my eczema, but this scrub and the body butter in the same scent (Gentlemen) have given me nothing but very positive results so far. Very impressed.
I am so glad to hear that our products are being good to your skin as well because this is my prime reason for starting this company. Due to my family own personal skin and health issues I could not find anything on the market that would not only help our skin but also made us smell and feel good. I wanted to create a brand that can be shared by many and not affect the skin in the process. So to hear that our products are doing just so makes me even more excited for what I have to come in the future :-) THANK YOU from my family!